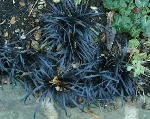 "Woah, is that real?" a friend asked me recently after seeing the dark, shaggy row of black mondo grass marking the border between my garden and patio. "Sure is," I was proud to reply. Believe it or not, of all the countless varieties of flowers, shrubs, trees and plants I use to landscape my backyard, it's the black mondo that seems to elicit the most comments. You certainly can't blame the untrained observer from being skeptical. I mean, how many leafy plants do you know of that are a rich shade of black?
Black mondo grass is perfect as a border because of the incredible contrast it creates with the other plants and flowers in your yard. It casts a striking presence as garden edging, alongside a patio, path, or driveway, or as a unique groundcover. Much like ordinary mondo grass, the black mondo variety is resistant to drought, deer, and insects, and does not require a lot of care to maintain its spectacular looks.
Young black mondo leaves will have a greenish tinge, however as the plants age their color becomes darker. The leaves have a shininess to them that will remain all-year long in a healthy plant. This clumping perennial spreads slowly over time and will eventually fill in to create a lush, black carpet just about anywhere you choose to put it. Mature plants typically reach a height of 6 to 10 inches (15-25 cm). Midsummer marks the arrival of beautiful pink bell-shaped flowers which give way to small black berries in the fall. Black mondo grass requires little water and will thrive in full sun or in those shady spots where few other things will grow.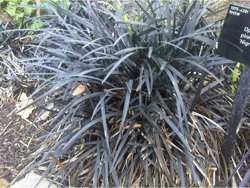 Black mondo grass has the ability to help illuminate a garden, making the bright reds, yellows, and oranges really shine. It can be used on its own, or in tandem with other ornamental grass plants like liriope muscari and green mondo grass. If you are looking for a groundcover plant that is sure to generate comments and commendations from friends and family, then black mondo grass should certainly be at the top of your list.
Click here to purchase black mondo grass at Classy Groundcovers and get Free Shipping!