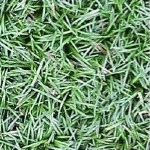 Everyone loves a nice, green lawn. Unfortunately, not everyone has the time to maintain their entire lawn by mowing and watering on a frequent basis. Enter dwarf mondo grass, a variety of lilyturf that is gaining in popularity among homeowners and landscapers looking for a low-maintenance groundcover to fill in those stubborn areas of the yard. This turf grass alternative, also known as dwarf monkey grass, is useful in those low-trafficked areas where traditional grass just doesn't seem to fit.
Dwarf mondo grass is a miniature version of mondo grass that reaches a height of only about 2 to 4 inches (5-10 cm). Once established, this ornamental plant will spread out to form a thick layer of grassy turf that is resistant to drought and pests and never needs to be mowed.
As a member of the lily family, dwarf mondo does not have the thirst for water that ordinary grass has. In fact, as long as it receives occasional rain, mature mondo never needs to be watered. The plants have even been known to maintain their green color during periods of drought-like conditions.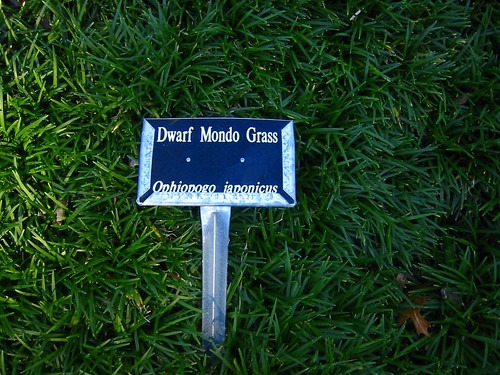 Dwarf mondo grass grows well under shady or sunny conditions. Many landscapers like to use this plant in patches between trees in a shady area because they handle lack of sunlight better than most grasses. It is also frequently used between stepping stones, to mark the border of a garden or pathway, or in flower beds.
Mondo is typically sold as bare-root sprigs which are individually planted in the ground. Mondo grass seed is also available, however seed germination with these plants is very irregular and the result of your efforts will be much less predictable. Once planted, the sprigs will slowly multiply and spread outward to produce a thick layer of grassy turf. Bare-root springs can be ordered in bulk for larger landscaping needs.
The biggest drawback to this type of ground cover is that it typically will not hold up as well in highly-trafficked areas of your yard. While dwarf mondo grass can withstand some occasional foot traffic, it is not recommended as a lawn surface where children frequently play or where it will get a lot of recreational use. However, if you need a low-maintenance turf that looks great and will fill in those out of the way sections of your property, then dwarf mondo grass is a solid choice.
Click here to purchase high-quality dwarf mondo grass at Classy Groundcovers and get Free Shipping!